Post-Corona World: The Future of Inclusion and Accessibility for Persons with Disabilities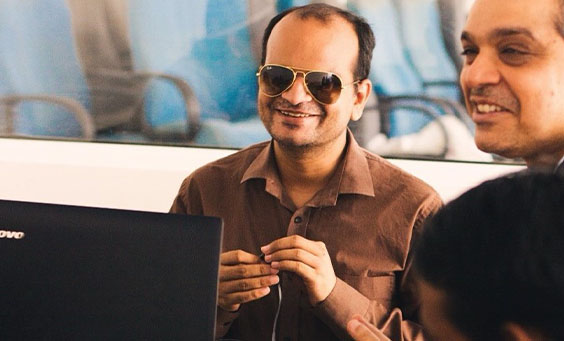 The entire world is currently going through something which has no precedent in recent history. Countries are on lockdown, schools and markets are closed, people are being told to stay at their homes and airspace is also restricted. This brings a lot of new challenges – especially when it comes to work. How is one supposed to fulfill their professional duties when they cannot go out of their homes? How are offices supposed to function? How are the targets supposed to be accomplished? To counter this, workplaces around the globe are practicing the policy of Work from Home. Large global companies, such as Oracle, Apple, Google and Amazon are among those who have asked their employees to set up their workstations in their homes. Online calling applications such asWhatsapp video calling, Zoom, Skype and Microsoft Teams are being used by the employees for meetings, conferences and seminars. In Pakistan too, organizations have moved towards remote working to allow their employees to practice social distancing.
However, this situation has sparked an interesting debate among the advocates of inclusion and accessibility. Kate, a disability rights activist based in Canada, posted on her Twitter account, "Now that there is Coronavirus, so many accommodations are being made so people can work/study remotely. Why is this so hard to do when disabled people need this to participate in society? If the world can give #AccessibilityForAbleds, give it to disabled people too." The usage of this hashtag (#AccessibilityForAbleds) gave rise to a number of tweets where people with disabilities shared their experiences of being denied the opportunities of employment and education only because the workplaces or universities refused to provide the necessary accommodations.

In Pakistan, situation is no different. Employment opportunities for people with disabilities are limited - despite the legislative protection and reserved employment quotas. Biggest reason is the lack of 'reasonable accommodations' being ensured by the companies. As per Osama Ayaz, a Deaf individual, "We face a lot of difficulties during the interview because of the absence of a sign language interpreter. The interviewers don't make an attempt to understand us and give us a chance." This issue of communication barrier, as Osama pointed out, can be easily solved if the interviewer decides to provide the necessary resources to the interviewee with a hearing disability and give them an equal chance at the job opportunity.
"The hurdles are limitless. From our homes, to streets, and transport, at every point we face infrastructural and attitudinal barriers and the worse thing is, when we reach our destination of interview, there are no jobs," mentioned Raja Muhammad Awais, a graduate with a Master's degree in political science, who has a physical disability and is a wheelchair user.  He further commented on the lack of will at organization's end by saying that all they get after appearing for interview is meaningless appreciation, "none of my academic achievements can overshadow the image of a boy sitting on a wheelchair," he lamented.
The situation involves an added layers of oppression and barriers for women with disabilities – who, not only have to face the sexist attitudes of the society but also have to find a way around the inaccessible environment that exists all around us. However, with organizational support and systematic change, making space for people with disabilities is not difficult. Zainab Yusuf, a former trainee of NOWPDP who is currently working in a renowned organization, tells the story of her current workplace and how they, in attempting to accommodate Zainab, managed to improve their infrastructure, "When I went for my first interview, they didn't have a ramp nor a wheelchair, but before calling me in for the second interview, they installed a ramp. Later on, they also worked on making the female washroom accessible because previously it had 2-3 steps and would have been inaccessible for me if the changes hadn't been made." This only goes on to show that change is possible. One small ramp for Zainab, one giant leap for the humankind, indeed.

NOWPDP, a disability inclusion initiative based in Karachi, has been working for the economic empowerment of people with disabilities for the past 11 years. During this time, they have placed more than 500 people with disabilities at various workplaces. Since January 2019, NOWPDP has been actively pushing the government of Sindh for the implementation of the Sindh Empowerment of Persons with Disabilities Act of 2018. Moreover, NOWPDP has had several meetings with the First Lady of Pakistan, Mrs Samina Alvi to promote the cause of disability inclusion at workplaces. In February 2020, NOWPDP facilitated a roundtable discussion attended by the leadership of all banking institutions based in Pakistan. Dr Arif Alvi, president of Pakistan, led the conversation. 

"Organizations interested in working for disability inclusion at their respective workplaces often look for quick changes in order to facilitate the employment of people with disabilities," said Zawwar Taufiq, Program Manager of Yaqeeen at NOWPDP. As per him, most companies are inclined towards hiring people with mild or minor disabilities and for whom minimal infrastructural and attitudinal re-arrangements are required. Another observation that I, as an employee of NOWPDP, have noted is that the issues of budgetary constraints, infrastructure inaccessibility, and communication barriers repeatedly come up when a conversation is initiated with the organizations. However, all this has become questionable in the light of the changes the entire world is witnessing these days.
Many are of the opinion that our world will no longer remain the same, our working conditions will change, and our way of interaction will be transformed. Steps taken by companies in this time of crisis shows that when human beings are prioritized in the process of policy-making, friendlier and humane steps are taken. Be it working from home, flexible working hours, empathetic working conditions, and adequate financial support, when a pandemic hit all of us, we resorted to make our world a better place for all. One can only hope that this serves as a moment of reckoning and change, and once things go back to normal, concrete steps are taken by those in power to ensure inclusion of people with disabilities through empathetic and considerate policy-making. We are also hoping and will urge the companies working in Pakistan to ensure effective implementation of the reserved employment quota, to ensure 'reasonable accommodation' and to hire people with disabilities without any discrimination, as this is not only a moral and social responsibility, but also a legal one.
Written by Associate Outreach, Khalid Omer Khan Sherwani.
Views depicted in this article do not necessarily reflect the views of NOWPDP.