NOWPDP's COVID-19 Response: Welfare, Skills & Livelihoods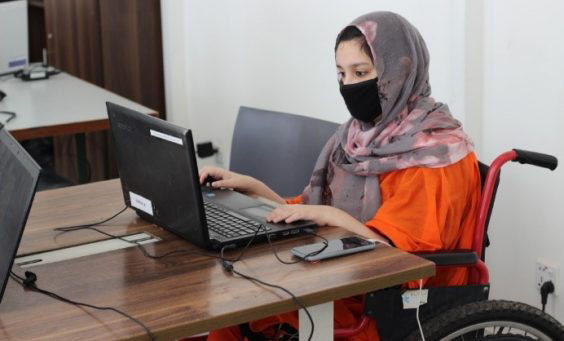 Background
With the COVID-19 pandemic gripping the world, persons with disabilities being one of the largest marginalized communities have been going through even more economic ordeals. With an impending lockdown, no time was lost and swift actions were taken. NOWPDP was one of the first organizations of its kind to move to the digital space to ensure that physical interaction of any sort is curbed.
With this "new normal" emerging, NOWPDP's main mission became: Welfare. Skills. Livelihood.
In this time of uncertainty, NOWPDP has received generous support from our well-wishers with the goal to ensure 3500 people with disabilities not only receive rations but also a large chunk of them get skills development training so that they can focus on becoming economically independent.
Welfare
A great emphasis on welfare has been prioritizing survival and sustenance. NOWPDP has been striving to ensure that 3500 people with disabilities across Sindh receive rations.
The ration includes basic staple items such as wheat flour, rice, lentils, etc. NOWPDP drops rations to their homes and also distributes it in camps in their respective cities. All precautionary and hygienic measures are taken to protect both the recipients and the team.
Call Center by persons with disabilities for ration drive
A purpose-built call center setup was brought forth for the ration drive, where the call center agents are all persons with disabilities including the team lead. They all have to go through comprehensive data and sift through it, filter and verify it by calling the individuals who fit the ration eligibility criteria. The fieldwork of distributing ration could not have been possible without their assistance. This initiative has also generated employment in the time of COVID-19 detrimentally affecting jobs because all the Call Center Agents receive stipends.
Skills Development
Skills development is one of the main pillars that NOWPDP emphasizes on. Acquiring a skill development training has a great chance of bolstering an individual's probability to secure employment.
Similarly, the team decided to focus on such trainings even more so that persons with disabilities have more economic opportunities as COVID-19 subsides. Therefore, with the lockdown coming in the scenario, the team lost no time in stopping all physical classes and moving them to digital for everybody's safety.
This was a change that nobody had prepared for and what ensued was very commendable despite being challenging. The teaching style and curriculum were worked upon and the most important facet of this initiative was to ensure that both trainees and trainers with disability find this change accessible. Therefore, people with visual disability were guided on the kind of software to use and people with hearing and speech disability had a sign language interpreter at all times. It is much to the team's delight that the attendance in digital classes was 75% with fewer dips than expected. The trainings to immediately move to digital were Computer Operations and Call Center.
Webinars
Despite the physical operations halting, we decided to use digital media to connect and communicate. For years now, we have worked to create an online community that is representative and includes our beneficiaries. Therefore, we ventured into having webinars and using social media tools to connect, boost morale, and give out important information.
Following is an example of a webinar we recently did:
Topic: As highlighted in the picture, the First Lady of Pakistan also was present during our first webinar and even sent in a message on the platform. The webinar was on"COVID-19: Persons with Disabilities - How to prevent it; what to do if affected?"
We do not know when this ordeal will end and what this would mean for all of us but what we do know is that we will strive to make this world a better and more inclusive place for all. We will power through these obstacles and come out victorious together. There is still a lot of work to be done which is why your support is a great driving force for NOWPDP to transform the lives of as many people with disabilities as possible.