Frequently Asked Questions on Coronavirus by People with Disabilities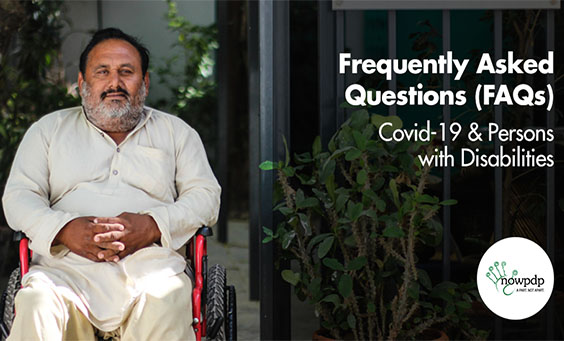 These Frequently Asked Questions (FAQs)'s answers have been taken from the Digital Baithak on "COVID-19 & Persons with Disabilities - How to prevent & what to do if affected?
NOWPDP Webinar Series: Pilot Episode
Moderator: Omair Ahmed, Executive Director NOWPDP
Panelists: Dr. Salman Kirmani, Chair of Paediatrics, Aga Khan University Hospital Pakistan - AKUH & Director, KDSP; Dr Maryam Mallick, Technical Advisor on Disability, Rehabilitation & Road Safety, WHO Pakistan and Dr. Sara Saeed Co-Founder & CEO, Sehat Kahani.

Q1: The webinar discussed the WHO guidelines for Person with Disabilities in the context of COVID 2019? How can I access the document ?
● World Health Organization: Disability Considerations during the COVID19 outbreak

Q2: For whom are the WHO guidelines meant for?
Disability Considerations during the COVID19 outbreak is a comprehensive document. These guidelines are developed after consultation with all the important stakeholders. It entails a collective approach and covers the following important categories.
● Actions for people with disability and their household
● Actions for governments
● Actions for health-care workers
● Actions for disability service providers
● Actions for the community

Q3: How does COVID-19 spread and what are the symptoms?
COVID-19 is mainly spread through respiratory droplets. That means to become infected, you generally must be within six feet of someone who is contagious and come into contact with these droplets. It may be possible to get COVID-19 by touching a surface or object that has the virus on it and then touching your mouth, nose,or eyes. Symptoms of COVID-19 appear within two to 14 days after exposure and include fever, cough, diarrhea and shortness of breath.

Q4: Why additional considerations are needed for Person with Disabilities?
It is important to note that simply having a disability doesn't itself put someone at higher risk from coronavirus. It is due to various factors that persons with disabilities may be at a high-risk of contracting COVID-19. These factors include: difficulties in implementing basic hygien measures and practice social distancing as many require care or other support. However many disabled people do have specific disabilities or chronic conditions that make the illness more dangerous for them. PWDs also remain at high risk due to discrimination and barriers to information,healthcare, social inclusion, and education.

Q5: What can we do to protect the persons with intellectual disabilities?
Persons with intellectual disabilities must be informed about the basic and necessary precautions. People usually have this misconception that there is no point in explaining people with intellectual disabilities about what's happening, this is wrong, and will result in the sidelining of these individuals. We have to consult them and listen to them. Their caregivers should follow the basic guidelines as recommended by WHO.

Q6: As a person with disability, what measures do I need to take to mitigate the risks?
Everyone with disability and their household should follow the WHO guidance on basic protection measures during the COVID-19 outbreak. Coronavirus disease (COVID-19) advice for the public. As advised by WHO in case of any difficulties to follow the measures, PWDs and their caretakers must come up with adaptations. Some other general measures include:
● Avoid public spaces that are crowded .
● Make purchases online or request assistance from family, friends, or caregivers.
● Ensure that assistive products, if used, are disinfected frequently; these include wheelchairs, walking canes, walkers, transfer boards, white canes.
● Stockpile important food and medical items to reduce the frequency of going into public spaces.

Q 7: What is telemedicine and why is it important during the COVID -19 Crisis?
Telemedicine is the use of technology that enables remote healthcare (telehealth). It makes it possible for physicians to treat patients whenever needed and wherever the patient is, by using a computer or smartphone. During the COVID-19 crisis, it is advised to stay at home and only visit the hospital in case of an emergency.
In this scenario, digital solutions to healthcare can be utilized. One such platform is Sehat Kahani. Sehat Kahani's mobile and web based application is a holistic digital health solution that enables individuals to access primary and secondary healthcare services online without the hassle of waiting for long hours at a physical healthcare facility. You can sign up on their website and fill in the form to Get Consultation with a Doctor.

Q8: How Persons with Disabilities can cope and preserve their mental health during the COVID-19 crisis.
The COVID-19 pandemic can cause stress and anxiety because it is disrupting normal life for many people all at once. The World Health Organization (WHO) created Mental health and psychosocial considerations during the COVID-19 outbreak . The WHO's guidelines are
designed to support the general population, health care workers, health care facility managers, caretakers of children or older adults, as well as people in isolation. Some of the measures that Person with Disabilities can take:
● Seek information from trusted sources. There is a lot of information being shared. If watching, reading or listening to the news is causing anxiety and distress, reduce your exposure and seek updates from trusted sources once or twice a day.
● Come up with a plan, should you become ill or need to self-quarantine. Having a plan may help relieve some of the stress.
● Reach out to organizations that cater to people with disabilities or Disabled People Organizations such as NOWPDP being one of them. At the moment these DPOs can best guide you and facilitate in case of any emergency.
● Develop strategies for adapting your routine during periods of social distancing or self-isolation.

Q9: What kind of government support I can receive during COVID-19?
● Ehsaas Emergency Cash Program:The Prime Minister launched the Emergency Cash initiative in response to COVID19, the largest-ever social protection initiative in the history of Pakistan. 12 million families (72 million individuals) will receive Rs. 12,000 each. Follow the link for a Step by Step guide to apply for the emergency cash program
● Ehsas Rashan Programme: In the Ehsas Ration distribution platform, individuals in need of food rations, and those willing to donate will be able to register. To request for the ration register with Ehsas: Ration Request.
● Sehat Sahulat Program:ensures that the identified under-privileged citizens across the country get access to their entitled medical health care in a swift and dignified manner without any financial obligations. SMS your national identity card number to 8500 and check your eligibility in the program. For more information See how to use the card.
● Insaf Imdad Program: Under the Chief Minister Punjab Insaf Imdad Package, each deserving family will receive Rs 4,000 per month at home through Mobile Companies. To be eligible for the Imdad Package, register at Application form for Insaf Imdad. The payment will made through easy paisa

Q10: What are the credible sources of information that i can follow?
There is a lot of information online at the moment on the COVID-19 crisis, it is important to follow and seek credible sources of information. Following are the sources of information that you can access.
Government of Pakistan
● National Institute of health: Most important questions answered. ● Ministry of National Health Services, Regulations and Coordination: Information regarding prevention and testing services.
● CoronaVirus Chat Bot: The chatbot addresses common concerns and gives
information regarding the outbreak.
● Pakistan Government, live dashboard: See the Realtime Pakistan and Worldwide COVID-19 situation.
● Ministry of Poverty Alleviation and Social Safety Division: Latest updates on the Ehsas programme.
● Pakistan Broadcasting Corporation: Listen to radio shows, and awareness sessions on COVID-19 at Radio Pakistan.

International Sources
● World health Organization: ​Resources on CoronaVirus Disease Pandemic
● UNICEF: COVID-19 response: COVID-19 response: Considerations for Children and Adults with Disabilities 
● United Nations: Preventing discrimination against people with disabilities in COVID-19 response
● International Labour Organization:COVID 19 and World of work
● Human Rights: Protect Rights of People with Disabilities During COVID-19
● CommonWealth Disabled People's Forum: Protect Rights of People with Disabilities During COVID-19