COVID-19 and the New Normal: Physical to Digital Training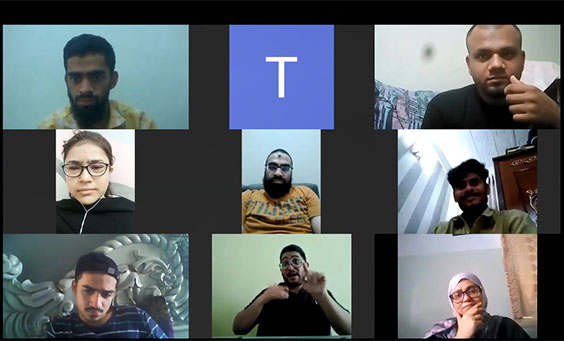 The surge in COVID-19 has become a pandemic gripping us all tightly as we try to make sense of the new normal. In order to bring some semblance of normalcy to the situation, an array of changes have been of dire importance. Especially, if those changes work towards making the society inclusive.
NOWPDP has been imparting skills-development training to persons with disabilities for quite a while now. Hunar or skill is one of the pillars of NOWPDP and a great emphasis is put on it. Such trainings can help people with disabilities master certain skills that could bolster their chances of securing employment. Therefore, leading them towards economic empowerment.
With physical interaction precariously affecting the COVID-19 spread, physical classes at the NOWPDP Training Center could not continue and something had to be done. Much to the team and beneficiaries' delight, NOWPDP was one of the first educational entities of its kind to move to online classes from physical. That being said, the journey was tough but fruitful.
The transition from physical to online classes did not take more than one week despite the apprehension that it would take more time. Thus, the trainees did not have to go through a long gap for their training. Technical trades such as Computer Operator and Call Center took to online classes. The process might have been swift but it also took instances of trial and errors to improve. Zoom was chosen as the platform for online classes owing to its accessible features.
The attendance of these classes has been a major commendable highlight. While the team surmised that attendance would greatly drop, it remained steady with fewer dips. Vice Principal – NOWPDP Training Center, Dania Anwar said, "The average attendance is around 73% as we speak. It used to be around 85% during our physical classes. However, it is also important to note certain challenges that the trainees and trainers have been dealing with that the team is trying to work on. For instance, trainees with visual disabilities have a harder time doing their assignments if they do not have laptops at home. Same goes for other trainees with other disabilities who might not have the same resources. This means they have to type everything out on their mobile phones which can turn out to be tedious. Secondly, the internet load for trainers can surpass the usual load but we have been vigorously trying to keep backups and better internet to ensure the training sails smoothly."
Feedback coming in from the trainers has also been absolutely positive. According to them, trainees are striving to be punctual and also focusing well in the classes. Yusuf Mirza is a trainer at NOWPDP with a visual disability. He explained, "We are glad that the trainees have taken to these changes well. It would have been harder had they not adjusted because with the lockdown, this option of online classes is the most viable and safe."
Building on changes that the team had to take into account, Dania Anwar also elucidated on the need for a differently styled curriculum. "We certainly had to design the curriculum again in such a way that the platform of online classes was taken into consideration. The teaching style is different, the space is different and so is the timeline."
The team has tried to ensure that the new form of trainings are accessible to both trainers and trainees. For the deaf classes, we ensure that a sign language interpreter is always present in order to communicate everything that goes on in classes. For people with visual disabilities, guidance is given on the specific software to use for ease and accessibility.
These changes are quite different from anything we have thought of but this "new normal" will continue for as long as global health authorities deem is necessary. Health and survival are of the utmost priority but so is building an inclusive society which is why we will keep on working towards the economic empowerment of people with disabilities. And, it can be only done in solidarity with each other.